Have you ever considered purchasing a home heating and cooling system that provides comfortable, warm air all winter long, and cool, energy-efficient air throughout the summer?
What if it delivered year-round comfort for less than your current electric, oil, or gas heating each month?
These are the tangible benefits heat pumps deliver to home owners, while at the same time reducing their home's impact on the environment. And it hasn't been a better time to buy with both provincial and federal energy rebates available that could save you up to $11,000!
We custom design your heating and cooling system with your budget and personal preferences in mind.
Heat pumps come in a range of models and styles to suit almost every budget. Our ductless heat pump packages, for instance, start at just $4500. Even without the government energy efficiency and manufacturer rebates of up to $11,000 you will have a heating and cooling system that matches (or beats) the price of any other heating solution, including high efficiency gas furnaces. Plus, you get the added benefits of air conditioning in the summer, a lighter carbon impact, and lower heating bills.
According to Natural Resources Canada, you may be able to reduce your space heating bills by up to 50% if you convert from an electric furnace to an air-source heat pump.
If you get a heat pump, and keep it at the same temperature that you have your baseboards set at, you would see greater savings. However, we see our customers setting their heat or cooling to their comfort level and still experience great savings.
For oil and gas conversions, your savings will fluctuate with the cost of fossil fuel prices, but our customers report consistent savings of 30% to 50% depending on the efficiency of their current heating system.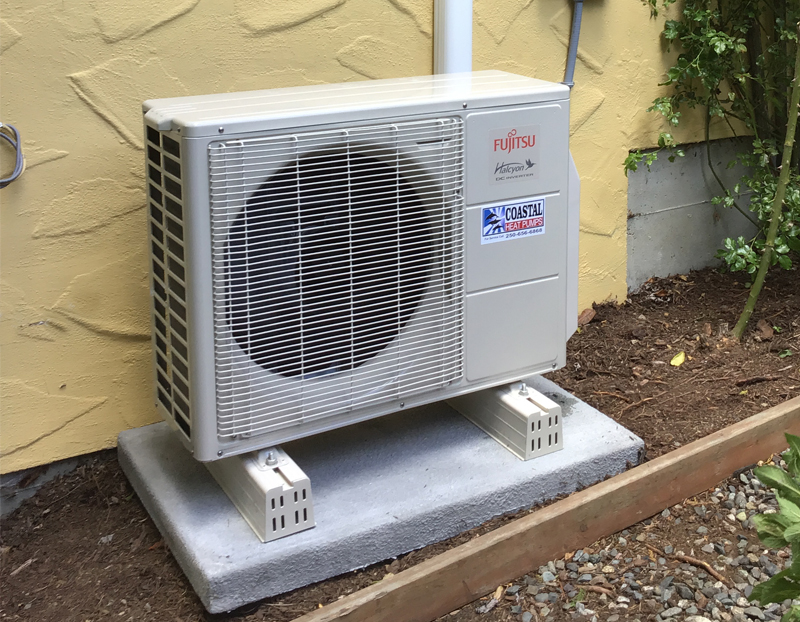 The performance of modern air source heat pumps is up to two times better than those from even a decade ago. ENERGY STAR® models use at least 15-25% less energy than standard models. Coastal Heat Pumps recommends using Energy Star-rated heat pumps for maximum energy savings.
Natural Resources Canada and the Heating, Refrigerating and Air Conditioning Institute of Canada (HRAI) have established an industry-managed energy efficiency rating system for furnaces, central air conditioners and air-to-air heat pumps. The energy efficiency rating scale appears under the EnerGuide logo on the manufacturers' brochures.

Lower Greenhouse Gas Emissions
In addition to saving money on utility bills, air source heat pumps reduce your greenhouse gas emissions. If you use hydro-electricity for your home heating, far less pollution is produced. Modern gas and oil furnaces burn much cleaner and more efficiently than those from just 10 or 20 years ago.
However, even these furnaces require vents to exhaust carbon monoxide. As well, pilot lights need to be constantly monitored for safety reasons.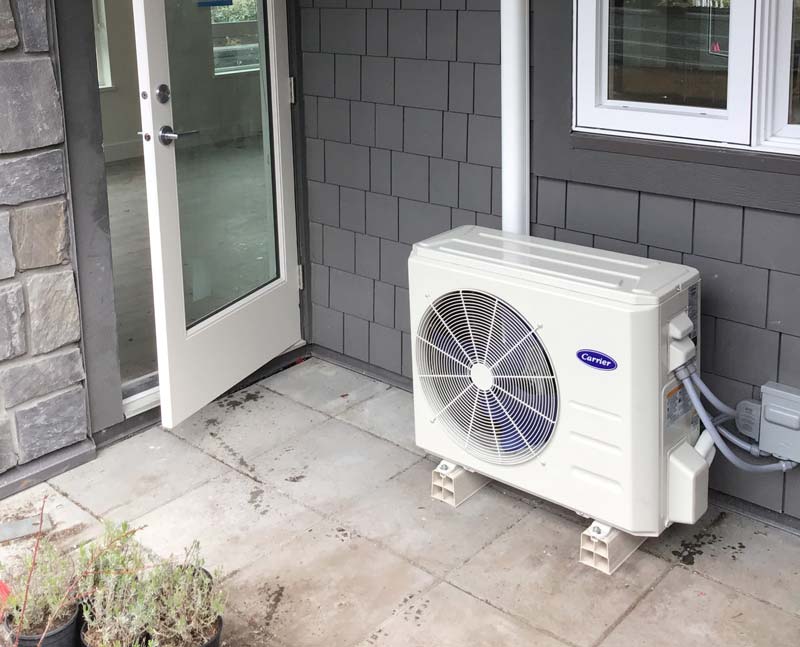 In addition to tackling heating needs during Victoria's winter, heat pumps sufficiently cool your home as well. Heat pumps have just as much cooling power as central air conditioners because they work in the same way. As the unit pulls air into the system, it passes over the indoor coils containing refrigerant. Here, the air is cooled and then pushed into your home's air ducts. This function gives you plenty of cooling capacity during high temperatures.
Annual Maintenance Checkup
Even the best heat pumps require annual servicing to keep them running efficiently. Schedule our 21pt inspection starting at $189.
No Payments & No Interest For 3 Months
We make owning a heat pump easy and affordable with FinanceIt.
*On approved credit.